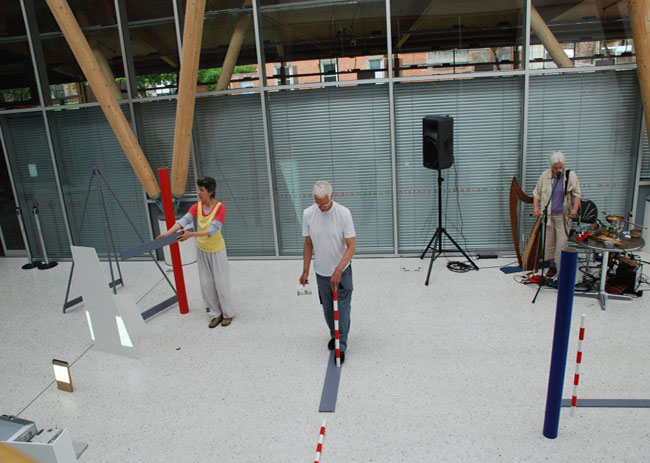 Promenade 3: Morning, Afternoon and Evening
IMPROVISING and COLLABORATION
My performance practice involves small scale, interdisciplinary partnerships, with just two or three people collaborating. Responsibility for the whole is always shared equally. Some projects result in solo performances, but the majority are group pieces. Improvisation is always the primary mode of collaboration and decision making. We use improvisation in several ways: as a studio practice; as a way of generating material for performance; and frequently as a performance mode in itself. We find that improvisation as a working method enables a subtlety, complexity and interactivity that can be hard to conceive of, or plan for in advance. Improvised work is not without form, but it has a form that emerges from within the working process, rather than one which is imposed on it conceptually.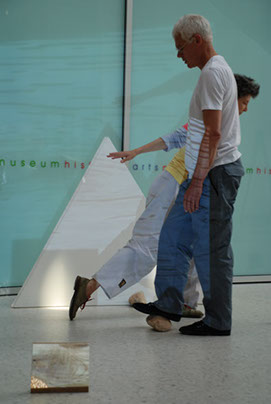 Promenade 3: Morning, Afternoon and Evening
PROMENADE
'Promenade' is the title of a series of interdisciplinary, works, devised and performed by Sylvia Hallett, Eva Karczag and myself. They are characterised by their combination of movement work, sculptural installation and live sound. Despite participants coming from different disciplines, there are some significant overlaps in the roles we adopt, both in our working process and in performing. Each piece is improvised from beginning to end. Performances mostly have long running times and audiences come and go at will during the event. Each work is created for a particular place, which is the source for its main ideas. Each is also based around a set of objects, furniture, materials and projected images, derived from, or inspired by, this setting. Improvising with these ingredients is a key part of the piece. In creating these works, we aim for a certain feeling of 'spaciousness' – It's a matter of leaving plenty of room for things to develop as and when they will, and especially room for the audience to drift and dream, as we think the word 'promenade' suggests – a relaxed and leisurely stroll. Starting in 2007, the Promenade series has evolved over an 11 year period and comprises seven works to date. Details, pictures and video clips from individual pieces are included below.